Burch Barrel Freestanding Charcoal Grill
Save

$196.00
Save

$196.00
Original price
$1,195.00
-
Original price
$1,195.00
Burch Barrel Grill
The Burch Barrel is a charcoal or wood fired grill that allows you to better interact with the dynamics of fire for more control. Its versatile design allows you to grill, smoke, bake, or just hang out by a fire. It will quickly become the central hub for any backyard or outdoor gathering.

Our innovative features were designed to ensure an entertaining BBQ experience for both the grill enthusiast and friends.
FEATURES: 
FUEL FLEXIBILITY: Are you a die-hard charcoal enthusiast? Or are you a purist and prefer hardwood? With the Burch Barrel you gain the flexibility to use any wood product- charcoal briquettes, lump charcoal or any wood of your choice.

LOCK COLLAR LID & PISTOL GRIP SLIDER: Make quick adjustments to your coal/fire height or heat without disturbing your food. Simply lower the lid and secure the grill grate to the lock collar lid by aligning the pegs with the notches. Raise with the pistol grip slider and adjust your heat as needed.

TRACKSTER HEAT CONTROL RAILS: Raise and lower your coal bed with ease, even in the middle of cooking. Nine height settings are built into the trackster rail system that spiral along the inside the barrel. So whether you want high heat to sear and boil, or lower heat to smoke and bake, controlling the heat is easier than ever.

EVERLEVEL TRIPOD: Solid carbon steel packable legs give you the power to make macro adjustments with ease, ensuring a level cooking surface no matter the terrain. Grilling on rocky riverbeds is just as easy as Smoking on a sandy beach. Where will you take the Burch Barrel?

STOKER VENTS: Adjustable top and side vents enable precision control over your temperature. Slide vents open to customize the heat intensity through a directional oxygen draft. The double wall designs insulates the entire Barrel, keeping the fire roaring inside, while cooling the outside walls. Kid and dog friendly grill? Check.

HANGING HOOK: Suspend food from the hanging hook located on the bottom of the lid to roast, sear or slow cook. Plus, it just looks really cool.
___

Constructed from high-grade steel and aluminum components, metal fasteners, unfailing welds and reliable powder coating, you can be sure to enjoy years of hard use ahead of you. Our Rough & Tumble Warranty guarantees everything we build against manufacturing defects in materials and craftsmanship for the practical lifetime of the product.
WHAT'S INCLUDED:
Burch Barrel
Packable EverLevelTripod
Pistol Grip Slider
Lock & Lid Collar with Detachable Grate
Removable Coal Pan with Grate
SPECS:
Barrel Weight: 45 lbs
Tripod Weight: 20 lbs
Tripod Height: 81" to 84"
Tripod Footprint: 60" circle
Grill Diameter: 18" (254.47" sq)
MATERIALS:
Exterior Body: Cold Rolled Steel
Insert: 304 Stainless steel and high-heat-resistant coated steel
Aluminum components
Matte powder coating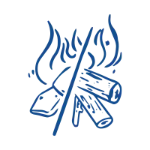 Do you prefer cooking with wood, charcoal, briquettes or construction scrap? It doesn't matter - fuel your fire with whatever wood product you prefer. No power cord or gas line required.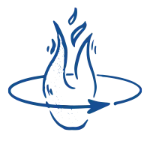 The communal configuration circles people up so they can face each other and their food – at the same time. You can finally grill, smoke, and entertain without turning your back on your friends.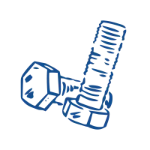 High-grade steel, reliable coatings and unfailing welds make the Burch Barrel the cooking-with-fire companion that will stand the test of time.
Returns & Refunds

At GW STORE, we are committed to ensuring your shopping experience is exceptional. If, for any reason, you are not fully satisfied with a product, we're here to provide solutions.

To initiate a return, the following conditions must be met:

The item(s) must be in unused and unassembled condition.
Items must be returned in their original packaging within 30 days of the delivery date.

Please note that the following items are not eligible for return:

Used items, including those that have been installed or assembled.
Clearance items.
Warehouse Deal Items.
Custom-made, special-order, and made-to-order products.
Items marked as "non-returnable" in the product description.
Items requested for return outside of the 30-day return period.

Should your item meet the return criteria, you can initiate the process through the "Submit a Return Request" button provided below. Be sure to consider the following details regarding the return process:

All shipping costs (to and from) will be deducted from the refund amount.
Upon submission of your return request, you will receive a confirmation email that includes additional process details.
Once your return is approved, an itemized Return Authorization, return shipping labels, and comprehensive instructions will be emailed to you. Approved returns must be sent back within 30 days of receiving approval.
For returns involving freight truck transportation, you must provide a photo of the item before authorization is granted. This photo will serve as a "before" reference to assess potential damages during transit.
Proper packaging in both the original outer and inner packaging is essential to reduce the risk of damage during return transit. Include all original parts, manuals, pieces, packing slips, and related items.
Once we receive and inspect the return, your refund will be processed. The timeframe for refund processing depends on the original payment method used for the order.
Items returned outside of the prescribed process or the 30-day period are ineligible for a refund.
Items returned independently, without adhering to our return process, are not eligible for a refund.

Defective Items

In the rare event of receiving a defective product, most of the manufacturers we partner with offer support through their warranty process. Please follow these guidelines:

The defective item must still be within the manufacturer's warranty period.
Provide serial numbers, a description of the issue, and relevant pictures or videos illustrating the problem.
Our knowledgeable Support team will assist you in troubleshooting to confirm the defect.
We will report the issue to the manufacturer, who will review and approve or reject the claim.
Manufacturer response times may vary based on their internal processes.
If the claim is approved, the manufacturer's warranty process will initiate, and service, parts, repair, or a combination will be provided as per the warranty terms.
Some parts or items may need to be returned to the manufacturer for quality control purposes.

Please note that GW STORE is not responsible for reimbursing labor costs or project delays resulting from defective goods. We advise delaying installation until items have been fully inspected upon delivery.

For any claims outside of the warranty period, replacement parts or units can be purchased through GW STORE, subject to availability.

Damages

Should you receive a damaged item, immediate action is crucial:

Notify us of damages within five (5) calendar days of delivery.
Inspect all items upon delivery, even if not installing them immediately.
If possible, refuse the damaged item with the carrier.
If accepted, report the damage to us within 5 calendar days. Do not use the item if damage is reported.
Options will include replacement parts, a discount to retain the damaged item, or a return for a refund/replacement.
If opting for a discount, respond within 5 calendar days to accept or reject the offer.
Keep all packaging and items for potential return or further inspection.

For damage reported after 5 calendar days, refunds, store credits, or free parts will not be offered. GW STORE cannot process claims beyond this timeframe.

Customer Safety & Security

At GW STORE, all purchase transactions occur over secure connections. This encryption ensures the confidentiality of your information during transmission.

30 Day Simple Return Policy

We at GW STORE want you to be satisfied with your purchase. Our simple returns policy allows for the return of new, unused, and resalable items in their original packaging within 30 days of delivery for a refund. Return shipping costs are deducted from the refund, unless the return is due to our error.

In cases of product defects or damage, we will work to repair or replace the product.

For returns involving freight truck transportation, we require a photo before authorizing the return, to document the item's condition prior to transit.

To facilitate the returns process, ensure items are clean, packaging is adequate, and defects are noted with accompanying photos.

For refund eligibility:

Items must be within 30 days of delivery.
Items should be in new, unused, and resalable condition in original packaging.
Shipping costs are deducted from refunds.
Refunds can be exchanged for the item or issued as a refund, subject to certain conditions.
Certain items are non-refundable, including Special Orders, clearance items, personalized items, and those marked "non-returnable."

GW STORE reserves the right to refuse refunds for items that do not match the original shipped item, items missing parts or original packaging, items damaged due to improper packaging during return, or items clearly used.

This policy reflects our commitment to your satisfaction at GW STORE.